Photo of the Week: Feb. 3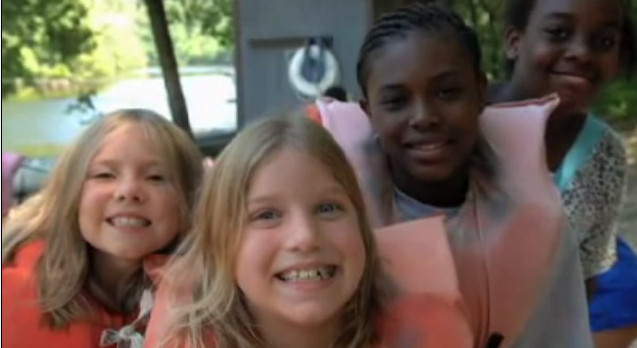 Until 1965 4-H across the country had been two separate programs — one for white students and one for blacks. But in the mid-1960s, the programs began to be integrated. In North Carolina, the first step was the integration of 4-H camps.
"North Carolina 4-H History" captures the story on Extension's YouTube channel through the voices of those who experienced the change and ones who followed. Here's an excerpt:
Sheilda Sutton, former executive to the Extension administratrator, N.C. A&T State University: "Camp Mitchell as we know it today, was the camp where African- American young people went. So you had people like John Mitchell, who was very instrumental in helping to negotiate that particular area. They established a foundation to help support the club. And then you had people like Bill Cooper that actually worked with putting the program together there at Mitchell that made it a wonderful experience."
Joyce Greene, 4-H volunteer, Franklin County: "My children was crazy about the camp, and we would raise money for them to go to camp. We would sell candy, cookies. And I would go along with them, and we really had a good time."
Thelma Feaster, organizational and personal development leader emeritus, N.C. A&T State University: "Just as in other communities, I feel that 4-H in the African-American community actually just opened a number of doors of opportunity for young people to enhance their knowledge and learn the skills that would enable them to be productive citizens."
Narrator Sonya Williams-Harris, former Extension video producer: "For many, State 4-H Week marked the highlight of the year. 4-H'ers from across the state gathered for educational programs, competitions and awards. White students met on the campus of N.C. State; black students, at A&T."
Sutton: "We came to Greensboro, stayed on campus. You would have about 800 or 900 young people from all over the state that attended that. I think it was an important part of our lives. Most of us 4-H'ers that came, were coming from rural areas. So I mean just to experience a college campus, just to experience Greensboro and the bigness of it."
Williams-Harris: "With the passage of the Civil Rights Act in 1965, 4-H, like many other organizations, had to integrate."
Dr. Carlton Blalock, state 4-H program leader (1964-70): "People from the civil rights division came down to Raleigh and said ' you will have to integrate your camps this year or close them.' I said, 'I can't do it this year. If you'll give me three years, and let me work into it, I'll be able to do it.'"
Marshall Stewart, state 4-H program leader (2006-13): He was able to integrate the 4-H camping system, which we may look back on today and say, 'That's not that big a deal.' But it was a huge deal because what you would have is two groups coming from the same county on buses. One bus had white children; the other bus had African-American children. And they would come to a camp…where in the county they were separated, but in the camp, they were together. And I think that's a great history part of who we are in 4-H."
Williams-Harris: "Since its inception, 4-H has helped shape the lives of hundreds of thousands of North Carolina's young people and build leaders locally, nationally and beyond."
Stewart: "When you think about what the impact's been on North Carolina, you think about the leaders that have served this state in elected office — people like former Gov. Bob Scott, or you think about former Gov. Jim Hunt — two well-known names in this state.—who had a tremendous background in 4-H. Martin Lancaster was a national 4-H alumni
winner  —  Martin Lancaster who just stepped down as community college president. The late Jim Graham (longtime agriculture commissioner), Elaine Marshall who is secretary of state now."
Stewart's list was just a snapshot, though. Certainly among the top N.C. leaders to come out of N.C. 4-H is Sen. Dan Blue, a Robeson County 4-H alumnus who served as the first black state House speaker in the South.
Was the information on this page helpful?